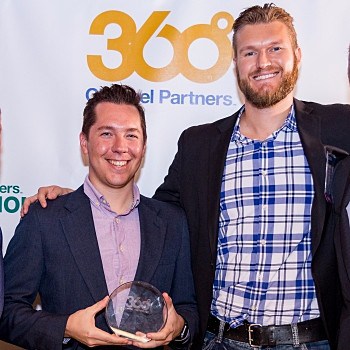 Just in: No More Salespeople Consulting honored with 2nd Channel Partners 360⁰ Award
AUSTIN – September 27, 2017 – Channel Partners, a resource for indirect sales channels offering IT and telecom systems and services, is pleased to announce that No More Salespeople Consulting has been selected as a winner of the 2017 Channel Partners 360⁰ Business Value Awards.
 
"Our 2017 Fall Channel Partners 360° Business Value Awards winners go the extra mile," said Lorna Garey, editor in chief of Channel Partners. "Just as our fall event is tightly focused on education to advance the business and intimate networking ops, this batch of winners showed a real commitment to pushing customers ahead with core technologies and an eye to sustainability."
 
Channel Partners 360° Business Value Awards winners are selected by a panel of editors based on real-world case studies that illustrate how the partner is using the convergence of IT and telecom services to create business value for its customers.
Who is No More Salespeople Consulting you ask?

NMSPC is proud to announce our 2nd Channel Partners Award in less than 2 years! This award recognizes our innovative and holistic consulting approach which benefits our clients' technology and telecom infrastructure projects..  The NMSPC Team have expertise in solutions, certification and knowledge of carriers and solutions providers in the industry and represent a portfolio of over 380 vendors.  We work directly with business decision makers within medium to enterprise organizations and help them navigate the ever-evolving world of technology by leveraging our portfolio, expertise, negotiation capabilities and ongoing support.  The feedback from our clients is that they make more informed decisions in a shorter amount of time all while getting their projects done on time at the right budget. To learn more, please contact us at the below information.
Want To See More?
Visit us online or check out our videos to learn more about us:
https://nomoresalespeople.com/